"Sacrifice who you are for who you will become."
-anonymous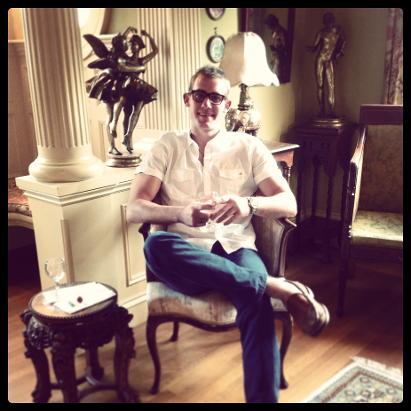 Bio:

Alex Szwed initiated his college experience at Western Connecticut State University. Following this, Alex transferred his studies to the renowned Physical Education teaching program at Central Connecticut State University. Since being enrolled at Central Connecticut he has delved in to his studies improving his GPA to a profound 3.86 while making the Dean's List and the President's List. Furthermore, he recently became an Acting Performance Minor thus widening his array of skills and passions. In the spring of 2014 Alex was an assistant coach for the Branford High School Lacrosse team where he guided student athletes to peak performance on and off the field. Following this, Alex landed an Assistant Coaching summer job for the Connecticut Canes Lacrosse team which is part of the Progression Lacrosse. During the summer of 2015, Alex coached student-athletes within a number of showcase tournaments in New England including Long Island, NY, Umass, MA and Gettysburg, PA. This past spring, Alex completed his student teaching placements in Enfield, CT and graduated from Central Connecticut State University with Magna Cum Laude honors. Alex graduated with a major in Physical Education/Health and an Acting performance Minor. Even more recently, Alex landed a teaching job at Westport Day School where he currently teaches a class labeled Mindfulness and Movement which embeds teachings from physical education, mindfulness, yoga and theatre.
Philosophy of Teaching
A few teaching theories in particular have molded my own idea of what teaching should be all about. Humanism, Cognition, and Social Cognition have impacted my views of teaching considerably. The idea of being a facilitator rather than a teacher provides students the freedom to explore the content with a sense of autonomy. An empathetic teacher will show compassion towards students and acknowledge their feelings without lacking the genuine consideration of their notions. Cognitively, students will learn by processing information from experiences that focus on their five senses. Constructively using socialization involves students politely voicing ideas or opinions while respecting their fellow classmate's responses. The environment or climate of the classroom will impact the student's overall learning growth.
One important question must be asked to all teachers and that is: Why do you want to teach? Well my answer is simple, I want to compassionately change the world and I plan to do that by empowering the future professionals of the world. I have always loved unlocking the minds of young students so they can see from different perspectives and be successful. During my field experience at the urban environment of Pulaski Middle School in New Britain I established vital relationships with students by listening to their feelings and their opinions. Modeling an open-handed approach to whatever the student's beliefs were at the time claimed to be an effective tactic during my observations. This strategy engaged the students and helped them understand the purpose of their class. A small instance that included a particular student who wanted to become a NBA basketball player became a perfect example when he insisted on procrastinating about class work. In response, I began to ask the student how he could become a basketball player. After pondering the question, he discovered that he needed to go to college. This prompted me to explain that he needed good grades in order to be accepted in to a renowned basketball college. This interaction enticed the student to participate throughout the class period and possibly made a significant impact on his life. Even though this student may not become a professional basketball player, he was motivated to believe in his dream which will most likely lead him towards a sport that can help unlock his future education. A physical activity or sport can provide students in tough socio-economic areas a more beneficial path to pursue. Oddly enough, a few years later I was playing basketball at the outdoor basketball courts at CCSU. I saw a young man ride his bike up and it was same student. As we talked, he explained that he was a freshmen at New Britain High School and he had good grades because he wants to play basketball in college.
In addition, in order to facilitate the class one must accommodate to every student's learning type. An adapting teaching style is crucial within the classroom. More importantly than this fact, is the notion of being completely and genuinely passionate about what you are teaching. An admired teacher of mine claimed this statement in the beginning of the semester; "you need to sell the class." One of the most impactful lessons that I was a part of within my classes is this idea that a teacher must enthusiastically believe in his or her lessons. This contagious attitude will inevitably spread to your students. In order to grab the student's minds, you must grab their emotions. A personal theory of mine explains this; if you are emotional within the classroom then the student's emotions will follow. Becoming an Acting Minor at CCSU will continue to assist my teaching abilities by allowing me to entertain and intrigue the student's emotions and grab their attention. I truly believe that every time you are teaching, you are on stage. This construct is based solely on the Cognitive Teaching Theory.
During my Education class at Central Connecticut I learned a valuable lesson during a walk through down-town New Britain. The nick-name: "Hard Hittin'" New Britain" has mirrored the town's tough cultured people and impoverished image. This unfair generalization needs to be put to rest. It is necessary for teachers and students to understand the enriched culture within New Britain before we start making unfair assumptions. A teacher should recognize the type of community or culture they're teaching in and understand that the students are a product of their environment. A teacher should never become discouraged because a student is tarnished by his or her environment. In contrast, a passionate teacher will always reach out to these students with enthusiasm and willingness. Furthermore, lessons may be different based on the community they are teaching. Generally speaking, different communities provide different types of students which require the teacher to use an array of teaching styles and methods. Contextualizing the history of that particular community within your classroom is vital for the students to understand where they came from and who they are. Yet it is also important to understand that a student's environment does not entirely define his or her integrity. This knowledge will help students develop a sense of pride and interdependence within their community.
"How to Talk to Kids so They Can Learn" is a book that I related to considerably during my undergraduate years. The book makes countless points on how to deal with a variety of student's behaviors using communication strategies that make complete sense. If a student does not respect or like the teacher then he or she will not want to participate within that class. Using a humanistic, empathetic teaching style will help the students recognize that their teacher sincerely cares for them as a student and as a human being thus earning their respect. Different techniques such as listening intently to students, accepting their feelings, the use of humor, offering choices rather than punishments, and creating class rules based on student's point of views are methods that I plan to use as teacher in order to achieve respect.
One of the many reasons why I love teaching Physical Education is that there is a sense of autonomy in teaching the wide array of subject matter. I have a passion for teaching fitness, health, yoga, sports, dance and cooperative games. I strongly believe that teachers need to be an expert in all sub-areas of their focus. It is obvious that all students will learn differently and be interested in different subject matter. In order to grab the emotions and minds of all your students, a teacher must not only offer an array of teaching styles to his or her students but the teacher also should provide many different types of content and activities. Providing students with interdisciplinary activities will add to the teacher's repertoire of teaching suits. In addition to the many focuses of Physical Education, mindfulness is an area that I would love to facilitate. I strongly believe that it is important for students to be able to be aware of their feelings and emotions. Allowing students for quiet meditations and self-reflections during the day will help them independently create their own inner sanctuary in order to cope with a chaotic life outside of school and a stressful school day. Studies across the nation have provided integral data that conclude mindfulness and meditation practices to be very beneficial to the school community. Specifically, statistics show the percentage of fights and suspensions decrease and overall attendance rate improve dramatically. Using technology within the Physical Education setting can be very useful for a teacher assessing his or her students. At CCSU, I have had the privilege to work with heart-rate monitors that are projected on a screen for the students to see. I also have worked with fit-bits that help students comprehend their physical activity rate. As technology becomes more and more apart of students' lives, it is crucial for teachers to use certain technology- tools in order to adapt to the new generation of students. I have had the opportunity to delve in to many technological tools such as google drive, coaches' eye, smart boards, moodle, wikispaces and many more.
Becoming a reflective teacher with a growth mindset almost always depends on the teacher's ability to assess his or her teachings whether it be from tangible data on fitness test or an observable moment in the classroom. Making sure that a teacher meets the criterion for the psychomotor, cognitive and affective domains and meeting all of the five standards of physical education is essential in their ability to provide students with positive, life-long educational habits. Whenever I have been peer-teaching at CCSU or teaching students at a school, I have always been provided with instrumental feedback from professors and veteran Physical Educators in different school across Connecticut. Through copious amounts of constructive criticism I have been able to focus on certain teaching tactics and areas such as "with-it-ness", transitioning during activities and projecting my voice to my students. Furthermore, I have been videotaped and recorded during my lessons for one of my methods to teaching games classes. This helped me visually see the mistakes I was making as well as certain aspects that I was doing well. This feedback has helped me improve in a variety of areas including my ability to assess. I plan for my future co-physical educators to provide the same feedback to me so I can continue to grow as an educator.
Overall, my philosophy has been shaped from different experiences within my college career as well as my experiences as a student. I will use the best of these experiences to develop a reflective and ever-adapting passion towards teaching a diverse body of students. In addition, I understand that learning is a life-long process and I will continuously improve my teaching styles for the betterment of my future students. My teaching philosophy will be forever evolving based on my future endeavors. If I could have my heart's desires from teaching physical Education, it would be that I could impact the students' school life effectively enough to provide a positive, life-long habit outside of school.


Resume:
34 Lang Road, Windsor CT 06095
860-995-8600 Cell
860-688-4026 Home
PROFILE:
A dedicated educator that composes a growth mindset and a distinct motivation towards teaching children of all skill levels and backgrounds the importance of lifelong nutrition, physical activity, and fitness. Features high capabilities in; coaching competitive sports, mindfulness-based instruction, yoga, physical/mental strength, fundamentals, leadership, improvisation and theatre. Overall, functions as an appropriate role model for all children and Physical Education Teachers.



EDUCATION:
Quinnipiac University, 2018-Present
Special Education, Masters
Central Connecticut State University, 2012-2017
New Britain, CT
Bachelor
'
s Degree concentrating in Physical Education, Cross Endorsement Health, BSED
Minors: Acting Performance,
GPA: 3.86,
Western Connecticut State University, 2008-2010
Danbury, CT


CERTIFICATIONS:
Special Education Certification, Masters, In progress
Physical Education Teaching Certification in Connecticut, Spring 2017
5-Year Connecticut Coaching Certification,
Spring 2014
CIAC 45 Clock Hour Certification Class December 2013 - March 2013


PRE-TEACHING EXPERIENCE:
Student Teaching Placements, 2017
Eli Whitney Elementary School, Grades 3-5
January 2017- March 2017
Final Grade: A
Enfield High School, Grades 9-12
March 2017- May 2017
Final Grade: A
Boulder Ridge Day Camp, 2014
104 Goose Green Road, Barkhamsted, CT 06063, Program Area Counselor: Lacrosse, Developing and teaching creative lessons that are fun and engaging to campers of all ages and all skill levels, Grade of Campers: K-8


*Over 100 hours of field experience from the following schools:


CCARC Adults with Disabilities, New Britain CT, Spring 2016
Chapter 126 Sports and Fitness, Bristol CT, Spring 2016
CREC Academy of Aerospace and Engineering Elementary School, Spring 2016
Central Elementary School, Simsbury CT, Fall 2015
Catherine McGee Middle School, Berlin CT Spring 2014
Pulaski Middle School, New Britain CT Fall 2013
Braeburn Elementary, West Hartford CT Fall 2012
Conard High School, West Hartford CT, Fall 2012

Rocky Hill High School, Rocky Hill CT, Fall 2012

Silas Deane Middle School, Wethersfield CT, Fall 2012
·
Assisting teacher with routines
·
Providing lesson plans and implementing them through effective teaching methods
·
Observing and helping students complete tasks
·
Attending School wide functions
·
Collecting meaningful curriculum material, including samples of student work, pictures, teacher handouts
·
Conducting a teaching-related activity that demonstrates skills
·
Help teacher with classroom management and equipment
·
Developing educational relationships with students


HONORS/RECOGNITIONS:
PEHP Scholar Award

, CCSU, Spring 2017






President's List Award,

CCSU,

2017




Foundation Scholarship,

CCSU, Fall 2016




CTAHPERD's Gibson-Laemel Scholarship,

CCSU,

Fall 2016




CTAHPERD's Outstanding Future Professional Award Nominee,

CCSU,

Fall 2016
Dean's List Award,
CCSU,
2013, 2014, 2015, 2016
Golden Key National Honors Society,

Spring 2013
Best Program Area Counselor,
Boulder Ridge Day Camp, Summer 2014, 2015




PROFESSIONAL PREPARATIONS:


CREC's 3rd Annual Mindfulness Conference, 2017
·
Day long conference; developing skills to implement mindfulness into the classroom through breathing techniques, modeling personal practice, yoga, and other innovative techniques
Teacher Crisis Intervention, 2017
·
Providing teachers with tactics and strategies to support students in order to prevent crisis situations or alleviate crisis.
CREC's Social-Emotional Learning through Yoga and Mindfulness, 2016
·
Learning ways to implement age-appropriate Yoga into the classrooms
·
Engaging in effective ways to develop healthy teacher-student relationships


CREC's Annual Mindfulness Conference, 2016
·
Developing skills to implement mindfulness into the classroom through breathing techniques, modeling personal practice, yoga, and other innovative techniques


George Mumford's: The Power of Mindfulness: Secrets to Pure Performance in Work, Love and Play, 2016
·
Engaging within innovative collaborations for mindful athletes, students and personal practices


CREC Integrating Mindfulness into the Classroom Workshop, 2015
·
Developing ways to teach Mindfulness within the classroom
·
Interacting with teachers and collaborating tactics to help students


Zen Buddhist Talk Back and Meditation, 2014
·
Engaging in Buddhist ideologies, self-compassion and breathing techniques


Yale Art Museum Field Trip, Pulaski Middle School Field Trip, 2013
Chaperone, December 2013, 757 Farmington Avenue, New Britain, CT,

Class Experience: Social Studies, Teacher: Mrs. Marquez,

Observing and Educating in an Urban School environment, As of 2011-2012, Total Number of Students: 531, Students Eligible for Free/Reduced-Price Meal: 83.6%, Students Who Are Not Fluent in English: 26.6%, # of Students Per Computer: 1.3, Average Class of Grade 7: 24.1 Students,

Total Minority 84.2%

P

ulaski Middle School Yoga Lesson, 2013
757 Farmington Avenue, New Britain, CT,

Class Experience: Social Studies, Teacher: Mrs. Marquez,

Observing and Educating in an Urban School environment, As of 2011-2012, Total Number of Students: 531, Students Eligible for Free/Reduced-Price Meal: 83.6%, Students Who Are Not Fluent in English: 26.6%, # of Students Per Computer: 1.3, Average Class of Grade 7: 24.1 Students,

Total Minority 84.2%
· Teaching

Interdisciplinary, Lesson on YOGA involving students who learn the purpose and history of yoga and meditation, relating yoga to social studies topics.


CTAPHERD Presider, 2013
Connecticut Association for Health, Physical Education, Recreation, and Dance, Member 2013-2014

Presider, Using Ipad for PE Session, 2013,

Speaker: Debby Lanier, Participators: Professional Physical Educators
·
Introduce speaker
·
Distribution of evaluations
·
Specializing in Ipad applications




CCSU New England Conference on Multicultural Education (NECME) Attendance, 2013


F.A.S.T Physical Education Open House, Southington CT, 2012






VOLUNTEER/COMMUNITY ENGAGEMENT:


St. James AME Church, Warming Shelter, Danbury, CT 2017-2018
·
Over 25 hours Total Community Service
·
Cook dinner and serve dessert for the homeless population in Danbury
·
Build relationships with the homeless population
Habitat for Humanity NOLA, New Orleans, LA Summer of 2012
·
Over 100 hours Total Community Service
·
Help build and refinish damaged homes in New Orleans
·
Developed new skills and knowledge of rebuilding houses including drywall, roofing and painting
Windsor Park and Recreation Fall Youth Lacrosse Clinics, Fall 2016
·
Providing free, educational lacrosse lessons for middle-school aged children
·
Developing and implementing fun, age-appropriate lacrosse games and activities
·
Modeling and teaching values of sportsmanship and character
Sage Park Middle School 7th Grade 4-Night Cape Cod Trip Chaperone, Spring 2017
·
Providing supervision to all campers during trip
·
Taking care of medicine for campers
·
Modeling responsible behavior for students at all times
·
Engaging students' minds during activities; Namaskaket Trip, Pirate Museum, Province Town, Harbor Cruise, Plymouth Rock


ACTIVITIES:
Golden Key National Honors Society Member, 2013 – present
·
Includes being top 15 percent of your class
·
Being part of an esteemed community of 2 million members all over the globe
CCSU Physical Education Club Member, 2012 - Present
·
Adapting new and improved learning styles and methods
·
Learning new and exciting lesson plans
CCSU Meditation Forum, 2013 - Present
·
Delving into mindfulness
·
In depth discussions on compassion and self-compassion
·
Developing ways and purposes to introduce compassion and mindfulness into curriculums
Enfield High School Yoga Club, Spring 2017
·
Delving into mantras and poses
·
In depth conversations about mindsets, meditations and mindfulness
· Guiding students through yoga flows and their own personal yoga practice




COACHING
Assistant Lacrosse Coach 2012-2013
Windsor High School, W

indsor, CT, 06095. Head Coach: Jim Dallasander, Enrollment: 1,228, Students Eligible for Free/Reduced Meals: 27.1%, Students not Fluent in English: 1.3%, Total Minorities: 70%
·
Promoting teamwork within practices and games
·
Organization of practices based upon drills that help players develop fundamental and advanced skills
·
Motivational skills/speaking by using positive feedback and encouragement
·
Providing a role model for the players for a sense of pride and guidance
Assistant Lacrosse Coach 2014-2015
Branford High School, 185 East Main Street, Branford, CT 06405. Head Coach: Jim May, Enrollment: 944, Students Eligible for Free/Reduced Meals: 11%
Assistant Defensive Coach at Progression Lacrosse Summer 2015
·
Providing guidance for High School lacrosse players
·
Developing strong relationships with coaches and players
·
Providing an overall conducive learning environment; focusing on skill development and character development


COACHING WORKSHOPS
JOB EXPERIENCE:


Westport Day School, 372 Danbury Road, Wilton, CT 060897
Mindfulness and Movement Teacher 2017-Present
Boulder Ridge Day Camp, 104 Goose Green Road, Barkhamsted, CT 06063

CIT Coordinator 2017-Present
·
Training CITs (counselors in training)
·
Facilitating team-building exercises and leadership exercises for the CITs as a group
·
Modeling positive behaviors for CITs involving behavior management for campers
·
Developing positive relationships with CITs, campers and fellow staff members
Lacrosse Program Area Counselor, 2014, 2015, 2016
·
Teaching lacrosse fundamentals to campers in K thru 8th Grade
·
Providing a role model for children
·
Creating a friendly and positive environment for all children to learn the sport of lacrosse
·
Developing fun, age appropriate lesson plans that engage all campers regardless of skill level
·
Adapting lessons and teaching styles according to certain circumstances


Swede's Jewelers Inc., East Windsor, 06088
Bench Jeweler, 2010-2014,
·
Store management using positive communication
·
People skills interacting with public with a genuine and helpful attitude
·
Organization of employees, repairs, tools, and finances
·
Jewelry repair skills using meticulous methods
·

Specializing and updating the social media including Facebook, Pinterest and Instagram

Swede's Jewelers
Sales Associate, 2010-2011
Excellent customer service
In depth knowledge of all items in store
Sel
ling items and helping customers
Cleanliness of store
SPECIAL SKILLS:
Completion of Online Mindful Education for Teachers
Certified in CPR, AED and First Aid by American Red Cross Standards
Completion of 8-Week Mindfulness-Based Stress Reduction Course


ACTING:


2014
Jesus Hates Me, Boone 2014 Davidson Hall CCSU
2015
Dollhouse, Dr. Damien Rank 2015 Blackbox Theatre CCSU Mainstage




ATHLETIC AWARDS:
All CCC conference in 2008 Lacrosse Season and played in Connecticut
'
s High school All-Star Lacrosse game.
Tomahawk Award in 2008 for MVP of the Windsor High school Hockey Team.
Physical Education, Motivated, Dedicated, Diverse, Healthy Lifestyle, Equality, Teamwork
REFERENCES:
Carol Ciotto
Physical Education Professor, CCSU
1615 Stanley St,
New Britain, CT 06053
Cell: 860-830-3731, Ciottocaj@ccsu.edu
Ryan Zimmerman
Physical Education Professor CCSU
1615 Stanley St,
New Britain, CT 06053
Steve Rissor
Athletic Director of Windsor High School
50 Sage Park Road
Windsor, CT 06095
(860) 687-2020 x485 (office)
(860) 302-3969 (mobile)
Jona C. Tarnowicz
Assistant Administrator
Genesis Healthcare Arden House
850 Mix Avenue
Hamden, CT
06514
(203) 285-1051 (work)
Jona.Tarnowicz@genesishcc.com